Saturday, November 18, 2017 10:04:19 PM GMT+0000
Four Prosecutors Fired in Bungled Child Sex Trafficking Probe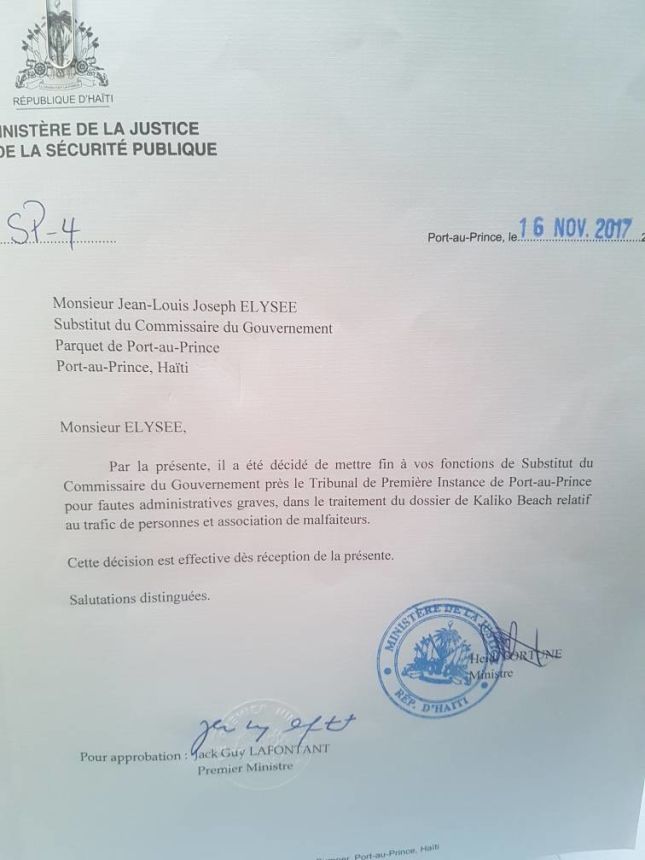 PORT-AU-PRINCE, Haiti (sentinel.ht) - Four district attorneys, known as "Substitutes of the Government Commissioner", were fired by the Minister of Justice on Thursday for what the ministry said was a "grave mishandling" of the case involving the Kaliko Beach Resort where 33 girls, many of whom were minors, were rescued by police in a sex trafficking sting.
[lightbox thumb="http://sentinel.ht/wp-content/uploads/2017/11/2017-11-17-PHOTO-00000087.jpg"]
[images_grid auto_slide="no" auto_duration="1" cols="three" lightbox="no" source="media: 10780,10781,10782"][/images_grid]
The letters were stamped as written on November 16, 2017, reading:
Hereby, it has been decided to terminate your duties as Substitute of the Government Commissioner at the Court of First Instance of Port-au-Prince for serious administrative faults in the handling of the Kaliko Beach file relating to the trafficking of persons and conspiracy.
This decision is effective reception of the present.
Greetings distinguished.
Following the
February 2017 sting
, where 33 girls were found in one hotel room, several foreign nationals, involved in the trafficking arrangement, were detained but released by sunrise the following day. It made widespread local news when then Chief Prosecutor, Government Commission Danton Leger, to his dismay could not account for their whereabouts of the suspects or if these persons were even still in the territory. The integrity of Commissioner Leger was not in question then or now. He criticized a breakdown within his department for the mishandling of the arrests and the securing of all suspects. The Sentinel reported that only 8 Haitian nationals, including the driver of a bus who transported the girls, were actually arrested. The driver was released after a few days for lack of involvement and sometime since, the other individuals were released. Commissioner Leger had also detained
the proprietors of the Kaliko Beach Resort
but was unable to hold them. In August 2017, the resort
announced it was near a buyout deal to be transformed into a Hilton Hotel
. It had suffered huge financial losses due to the events of March. Sources close to the matter, who furnished scans of these actual letters of revocation to the Haiti Sentinel, say inside the halls of the Palace of Justice, it is believed that the four prosecutors fired were paid to release the detained foreign nationals and were signatories for signed releases for the arrested non-foreign nationals.
Comments
Re: Four Prosecutors Fired in Bungled Child Sex Trafficking Probe