Tuesday, September 17, 2019 2:09:31 PM GMT+0000
Jovenel Moïse, in Rebellion against Martelly, now under PHTK Attack
Former President Michel Martelly is putting any political power he has left into the opposition movements in Haiti but not for the resignation of President Jovenel Moïse. Rather he only wants the resignation of Prime Minister-designate Fritz William Michel, making it a difficult line to toe.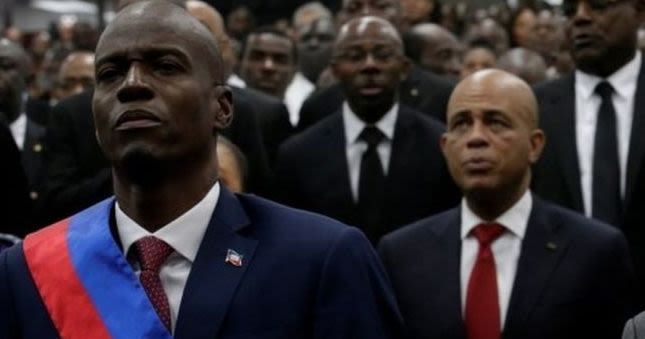 Michel Martelly still needs Jovenel Moïse in power. Moïse was propped up into the seat of the presidency for his deep involvement in money laundering and embezzlement. President Moise is cited so much in the Court of Auditors' corruption investigations because he was the proprietor of the main business entities used to sign many of the government contracts for ghost projects.
Through Agritrans, S.A., Mr. Moise received a banana plantation at an extravagant cost to the state. Worse even, the farmhand plucked from northern rural Haiti, known as "Neg Banan Nan" (The Banana Man), would receive contracts for infrastructure projects never delivered. The money collected by Moise's companies would then kick back the funds to Martelly and his Haitian Tet Kale Party (PHTK).
Byen Konte, Mal Kalkile
Moise is meant to serve as protection against prosecution of Michel Martelly and members of his political party. The scandals involving the Petrocaribe fund, that at the time, The Haiti Sentinel was solely writing about ad nauseum, always loomed. Jovenel Moise was to remain in office, undermine any attempts to investigate and prosecute, until Martelly would again become eligible to run for president at the end of Moise's term. But, however timidly, Jovenel Moïse has been growing in ambition and Martelly did not expect this.
Distancing himself personally, soon Jovenel Moise began to move away from Martelly institutionally. Martelly has been slowly losing a grip on Haiti's ministries and departmental agencies which sent him and his allies checks for large sums of money monthly. Haiti's departure from the Petrocaribe program with Venezuela was also an indirect hit to Martelly, whose oil distribution investments were affected. The distancing, the dwindling greasing of palms, the funny movements of his protege, these things are driving Martelly mad and, in desperation, forcing him to put his efforts into the current opposition protests - even at risk to himself.
Foolish Ambition
For Jovenel Moïse, the cost of securing his own personal finances, establishing his own new shell companies and powers in the Haitian government and private sector, while still having to ensure money is paid out to the former president, his men and expansive ifrastructure, it is just too much. After the fall of former Prime Minister Jean-Henry Ceant, Moïse resolved to more fervently start treading his own path.
Mr. Moise's problems began last year, when it was realized that he was attempting to create his own private electricity companies to replace Sogenor, Haytrac and e-Power. It took him off his track to establish power 24/24 in Haiti, to trying to finagle $150 million from Taiwan to launch his own enterprise.
The president is taking on this ambitious venture having not amassed the appropriate political support necessary for such an undertaking. Now, late in the game, he has found refuge through a Tet Kale derivative political party called Bouclier. Bouclier is headed by House Speaker Gary Bodeau (Bouclier - Delmas), essentially, but lacks a certain 'je ne sais quoi' to really move people.
The Flipside of the Same Coin
Bouclier is PHTK in all intents and purposes. In fact, at one point it would have had former First Lady Sophia Martelly as its candidate for president. Many of the individuals involved in the Petrocaribe crimes went and founded Bouclier. Their differences with PHTK revolved around the boastful, front page news, peacocking and provoing approach that PHTK, through its leader, Sweet Micky, had become known for.
Deputy Gary Bodeau handpicked Fritz William Michel to be designated prime minister. Fritz William Michel guarantees the corruption of the Tet Kale regime, but to the benefit of Bouclier, Jovenel Moïse, and the more subtly corrupt. So by all underhanded, corrupt and undemocratic means possible, Deputy Bodeau sought and succeeded to have Fritz William Michel approved in the Chamber of Deputies. But in the Senate, where PHTK and President Michel Martelly still holds some influence, Fritz William Michel is being met with opposition.
Martelly wants Senator Joseph Lambert (PHTK - Sud'Est) to be Prime Minister. Joseph Lambert will restore his order, sources of revenue and power back into the government institutions. At this point, Martelly needs a real diehard in the seat to ensure it. He can't take any more risk no matter how selacious a choice like Lambert presents.
After weeks of discussions and assurances, it came as an utter shock for Martelly and Lambert when they heard it was Fritz William Michel who was designated PM. Jovenel, in his understood weakness as a politician, led PHTK to believe Lambert was going to be named though he had little intention to do so. It was a sting, moreover, in the way it was handled and the lack of negotiations between both sides has created an internal war.
Warning for the Real Opposition
Since the of event of naming Fritz William Michel designated prime minister, Lambert has announced his move into the opposition. He is bringing some other senators on board for it as well. Michel Martelly and PHTK officials are in the press announcing their "moderate opposition" to Jovenel Moise. Those in Tet Kale or who are allied with the party have already lent support to the opposition movements.
As long as Fritz William Michel is prime minister-designate, the real opposition can expect a lack luster effort by the police institutions and the street gangs, who Martelly holds influence over, from interfering in the demonstrations. But all fighting for real change in Haiti must be well aware of the "moderate" support posing as "radical" in their struggle.
I send prayers. Stay safe. Godspeed.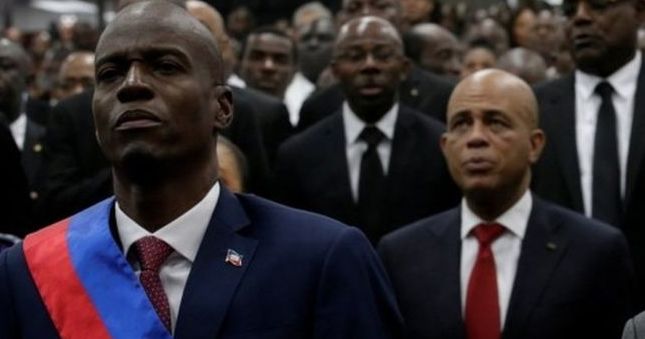 Comments
Re: Jovenel Moïse, in Rebellion against Martelly, now under PHTK Attack