PATRONS
ThankYou
Winifred Flint
Outgoing Taiwanese Ambassador to Haiti Decorated before Departure
Monday, August 12, 2019 3:37:56 PM GMT+0000
Taiwanese Ambassador Hu Cheng-Hao was awarded the National Order of Honor and Merit by President Jovenel Moïse on Friday at the National Palace at the end of his mission in Haiti.
The ceremony took place in the presence of the resigning-Prime Minister Jean-Michel Lapin, resigning-ministers, parliamentarians and officials from the Embassy of Taiwan in Haiti.
Outgoing Foreign Affairs Minister Bocchit Edmond made the recommendation to the Head of State by noting the diplomat's commitment to promoting and harmonizing the good relations between the two countries.
"Ambassador Hu Cheng-Hao officially took office on June 6, 2017. Since then, and in the wake of his predecessors, Ambassador Hu has worked tirelessly every day to boost relations of 63 years between the two countries," the Head of State said.
"He immediately set to work meeting with government authorities to boost bilateral cooperation between the two countries. To this end, a memorandum of understanding on bilateral cooperation for the period 2017-2021 was signed on October 23, 2017 between the governments of the two countries. Through this memorandum, Taiwanese cooperation in Haiti has been relaunched in several areas such as institutional strengthening, humanitarian aid, health, education and infrastructure...", he said during his declarations on the ocassion.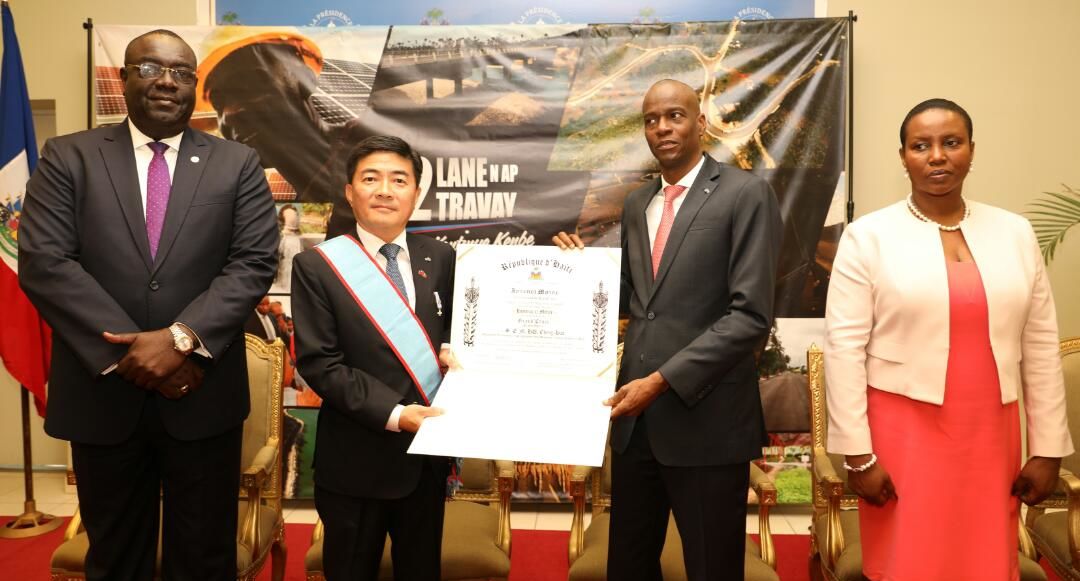 Comments
Re: Outgoing Taiwanese Ambassador to Haiti Decorated before Departure