Haiti Soccer Players Politicized on Visit with President Jovenel Moïse
Wednesday, July 10, 2019 1:37:25 PM GMT+0000
The National Palace called it a "friendly reception in honor of three players of the national football team", what was held on Tuesday but for the embattled president the event was political. Jovenel Moïse admonished his opponents for not demonstrating "unity" and "living together" as the soccer lads had demonstrated in the Gold Cup.
"We are working, we are dialoguing so that in the near future we can endow the country with a government in order to unblock the situation in the country... the situation blocked since the resignation of the former prime minister and government on March 18 of this year," President Jovenel Moïse said.
Duckens Nazon, Steeven Saba and Wilde-Donald Guerrier, the three, were the only players from the selection that were "received in honor" at the National Palace. The issue was brought up among fanatics on social media.
President Moise continued, "we know that we are facing difficult times in the country. The country needs a working government. We are working with the institutions that are there for this, including the Haitian Parliament." President Jovenel Moïse, according to Le Nouvelliste, presented himself as "an apostle of dialogue and living together."
"... I think that the national selection has just given an example of union, of living together. This is what I have always preached since the first day, from the launch of my election campaign to my accession to power. And that's what we continue to preach," said Mr. Moïse, surrounded by the Prime Minister-designate Jean Michel Lapin and officials of the Haitian Football Federation (FHF).
"When we choose unity, we are able to work miracles. This is what we are asking today for the Haiti we dream of to have no conflict or destruction. It is in the living-together that we will find it", the Head of State continued.
President Jovenel Moïse has made unsuccessful attempts over the past 3 months to hold talks with opponents and get ratification of a prime minister. The president's opponents was his resignation, they claim there is no solution that does not requires this, so talk of prime minister is in the least for them.
President Jovenel Moïse, in mentioning the resignation of the former government, he failed to mention it was by his order and his legislative majority in the Lower House which delivered a vote of no confidence against former Prime Minister Jean-Henry Céant. This vote came only six months into the former PM's term.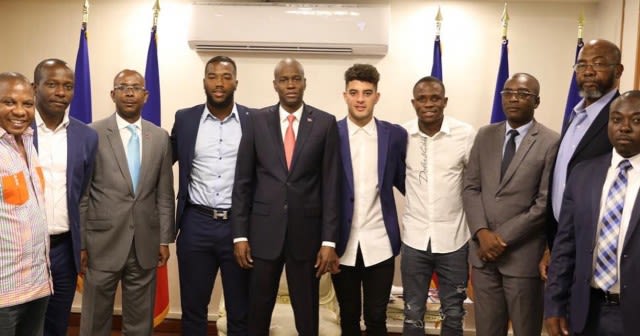 Comments
Re: Haiti Soccer Players Politicized on Visit with President Jovenel Moïse