Friday, October 4, 2019 11:42:36 AM GMT+0000
In Miami, Haitian-Americans Tell Pelosi, Wilson 'Stop Meddling in Haiti'
Haitian-Americans in South Florida met with U.S. House Speaker Representatives Nancy Pelosi (D - CA) and Frederica Wilson (D - FL) on Thursday and told the American lawmakers that the U.S. had to stop interfering in Haiti's internal affairs.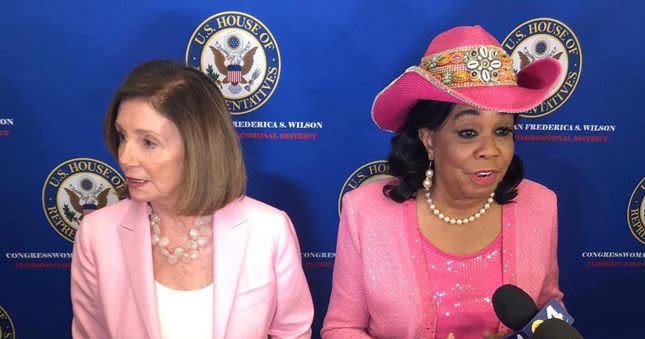 At the Father Gerard Jean-Juste Community Center in North Miami-Dade, Representative Wilson opened up the discussions with two Haitian-American elected officials, Miami Dade County Commissioner Jean Monestime and North Miami Beach Commissioner Michael Joseph. According to the Miami Herald, the two men were at a loss for words when ask by Madame Wilson how can the U.S. help Haiti.
But the women on the panel, Marleine Bastien, Executive Director of Haitian Women of Miami (FANM), Gepsie Metellus, Executive Director of Sant La Haitian Neighborhood Center, Carline Paul, Executive Director of the Haitian American Youth of Tomorrow (HAYOT), and Attorney Karen Andre — did not mince words.
"The people of Haiti are saying, 'My goodness, let us govern ourselves. Let us find our own path... just support us,'" Gepsie Metellus was quoted as saying. She continued, "what do people want to see? They want to see the United States ask, 'What do you want and how can we help you get it?' We don't want the United States or Canada or France or the rest of our friends dictating. We don't want to be dictated to."
Carline Paul said "the people of Haiti say, 'No interference. No [Temporary Protected Status] deportations after Jan. 20, no more support of President Jovenel Moïse as president of Haiti."
Karen Andre championed one of the chief demands of protesters in the streets in Haiti. She said, "the volatile aspect of this crisis goes beyond politics. It goes beyond partisanship. It goes beyond borders and is so dangerous it can destabilize the entire region... all I am going to do is repeat what the people have been saying for the last year... Where is the PetroCaribe money?"
"They are calling for accountability from so-called elected officials to account for where that money had gone," Andre said. "They are calling for a stop to the massacres, the extrajudicial killings that are happening."
Marleine Bastien decried the world's silence asking "why is the world so silent about what's going on in Haiti? Why is the world silent about the massacres? ...The Haitian people are suffering. The Haitian people are asking for our support. The Haitian people are dying."
Representative Wilson said the discussions had given her much to think about but by her lasting quotes appeared still consumed by an interventionist and meddling spirit. She said "we have to find a solution to stop the protests or we've got to find a way to remove the president. It's just that simple."