PATRONS
ThankYou
Winifred Flint
Impeachment Proceedings Again in Recess, But For Security Reasons
Monday, August 12, 2019 11:45:06 PM GMT+0000
Ten minutes after the continuation of the impeachment proceeding in the Chamber of Deputies with the question to indict the President of the Republic Jovenel Moise, Speaker, Deputy Gary Bodeau (Bouclier - Delmas) adjourned the meeting for reasons of security.
The session was called to order at 5:15PM, more than 6 hours after the time it was slated for, 11AM.
In attendance were 60 deputies, which meets quorum, but was without the accusing minority deputies, who likely held out because the Office of the Chamber did not meet its preliminaries.
The presidential majority of 60 deputies want to force the impeachment proceedings to continue, whether the preliminaries set be the office are met, and whether the accusing deputies are present. It is a political maneuver in order to dispose of the matter in the Head of State, Jovenel Moise's, favor.
But the protest amassing outside likely threatened the safety of the members. An overwhelming majority of Haitians, from diverse sectors, have been calling for the president to resign. They prefer that lawmakers do the duty, a break from past coups, it has been said.
Deputies have been under pressure to indict the president to move the process forward to the High Court of Justice. There, in the Senate, which constitutes itself as this court, the task to find guilt will be placed and if affirmed, the president would then be removed from office.
Had the session been held and no real process to indict the president had taken place, it is quite likely an untenable situation, nationwide, could have occured.
Citizens Outside of Parliament Throw Stones
The situation became complicated outside of the Haitian Parliament. People gathered in front of the premises and began throwing stones towards the parking lot and on all vehicles that parked in that space.
The windshields of Deputies Gabriel Lyonel Jean (Verite - Lascahobas) and Jacquelin Rubes (KID - Fort-Liberté) were shattered. Other deputies ordered their drivers and security to move their vehicles from the space which would leave them more vulnerable.
Fire barricades began to be erected as the demonstrators shouted their frustrations with much more vigor.
Specialized units of the Haitian National Police (PNH) trained in crowd control could not prevent individuals from taking violent actions.
The Preliminaries for Impeachment
Accusing deputies are requesting a number of documents from the Executive which must be requested through the Office of the Chamber.
The documents include depositions, minutes from meetings, financial records, decrees - the drafts -, and if not the presence of the former prime minister, than a deposition as well, among other information.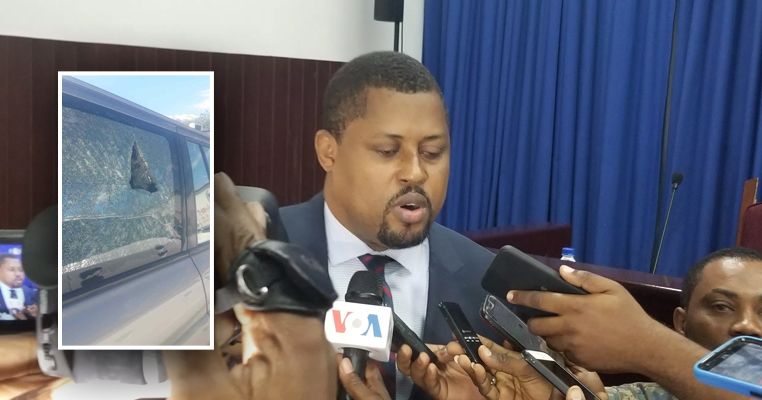 Comments
Re: Impeachment Proceedings Again in Recess, But For Security Reasons