Wednesday, November 13, 2019 9:07:10 PM GMT+0000
AUDIO | Recording Reveals Extreme Politicization, Manipulation of Haiti's Police
While under condemnation from Amnesty International for repression against the Haitian people through excessive and violent use of force, the Haitian National Police (PNH), funded and trained by the United States, is facing renewed accusations of politicization that have plagued it for nearly a decade.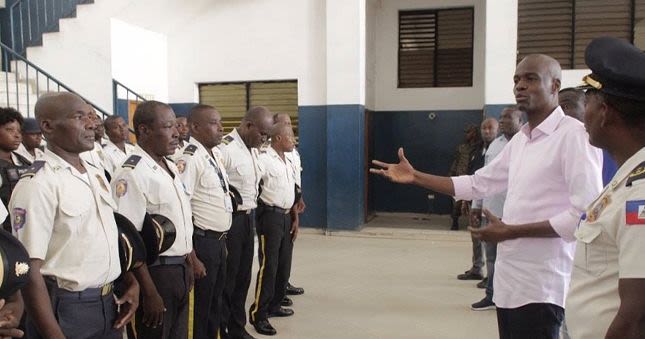 In today's circumstances, the PNH, a civilian security force, finds itself institutionally vulnerable to politicization. Haitians consider it part of the plan of the United States' actions in Haiti. The President of the Republic, Jovenel Moïse, through action or inaction causes dysfunction within Haiti's institutions in order to run the police force institutionally vulnerable to politicization.
While enjoying steadfast U.S. Embassy support, the institutionally vulnerabilities created include, the absence of a legitimate director general for the police. Naming an interim DG of the PNH, Normil Rameau, puts the person in this important role in a position with no job security. Under these circumstances he lends himself to actions not independent but political for his survival.
By never moving to organize elections, an institutional vunerability is created with the absence of the legislative power. The Parliament ratifies, empowers, budgets and provides oversight for the national police. They cannot provide this control today and that is of no concern to the U.S. Embassy in Haiti.
For reasons that easy to understand, given the breakdown of the legislature, there is also a weak judiciary that the U.S. Embassy moreover needs to exist in order to maintain its interests in keeping highly corrupt politicians in power. The judiciary is currently not functioning even at the lower levels today as Haitians have paralyzed all functions of government in demand for the resignation of Jovenel Moïse.
Politicization can only be more implied by what occured over the weekend. The President of the Republic took the initiative of personally visiting police barracks in the country. The prime minister, although illegitimate, is head of the Superior Council of the National Police (CSPN) and reserves the right of control and oversight over the police institution. It is because the prime minister is at the mercy of the legislature but even though illegitimate, the defacto prime minister Jean Michel Lapin wasn't present during the president's visit.
This created the situation where during a meeting between officers of the PNH and the embattled president, Mr. Moïse, an officer of the law would be so blatant to say that he and his fellow officers are fighting against the Haitian population for the benefit of the person of the president. The president did not speak against this characterization of the role of the police, au contraire, he embraced it.
This comes as Amnesty International has shown the Haitian National Police to be highly repressive against citizens. Massacres of underpriviledged communities protesting the presidency have included the involvement of police. Journalists across Haiti are in danger not just from terrorist, state-sponsored gangs, but police in uniform.