Thursday, October 3, 2019 12:50:05 PM GMT+0000
Haiti's Conscious Artists Call for Resignation of President Jovenel Moïse
A coalition of about two dozen conscious artists penned a press note dated October 1, 2019, calling for the resignation of President Jovenel Moïse and their support for the breaking down of an oppressive social, political and economic system.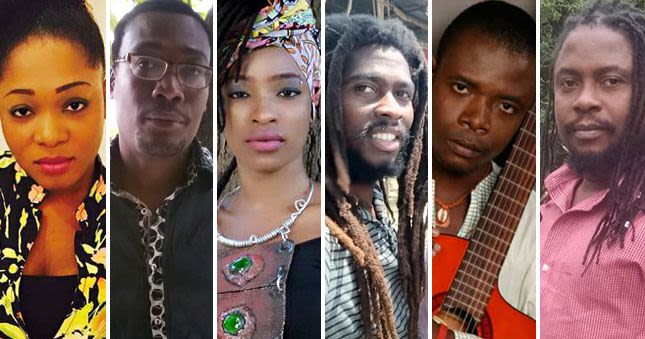 The organization known as Kolektif Atis Angaje (Collective of Engaged Artists - KATAN) listed 8 reasons for their decision to come together for the cause. Their letter follows:
Every cultural work has a political orientation. Which means that artists have an important political function in society. They exercise this function in many ways:
Either in helping the government in power with cultural productions that have nothing to do with the problems that the masses of people live in everyday.
Or in artistic production to denounce injustice and inequality in the communities they are living in.
We, the artists, writing this not, we place ourselves in the category that believe artistic deeds are never trivial, they always serve one cause or another. This can be done clearly or subliminally. This depends on the artist; their artistic tool, etc.
In this sense, as we assemble our voices together to demand that the implicated president, Jovenel Moïse, resign from office immediately before things worsen.
For all the following reasons:
The Court of Auditors has accused the president of embezzlement in the Petrocaribe case.
Several reports from human rights organizations accused his regime as authors of massacres in several areas of the country.
The president has abused his power in using position to have his wife spend State monies without authority.
When the president speaks it has been lies delivered.
The material existence of the people deteriorates more every day.
The entire nation is rising against the implicated president to force him to release his power and go before the courts immediately.
Everytime the president speaks, discontent rises even higher.
Dozens of people are dying by police fire, government zealots because they are protesting what is just.
For the aforementioned reasons, for us, the resignation of Jovenel is a step in the direction to create a State of the people. This State is not in the interest of the masses. This is a State that is crippling us. Because Jovenel represents a political system of grandeur elite mafioso that has the Haitian people hostage.
In this sense, we are going to stand with all popular mobilizations with the objective of TAKING DOWN and DESTROYING this system of oppression that is stopping a life of joy for the majority in the country, while a small minority are enjoying all the riches of the country in a shameful way.
An Organized People Never Lose Battles!
If you do not speak your part, know that you are in support of what is going on.
Artist signatories:
Jack Sander Cémeus
Jacques Adler Jean Pierre
Billy Elucien
Valdano Louis
Jean Luckenson Narcisse
Kébert Bastien
Guerchang Bastia
Douglas Zamor
Chelson Ermoza
Shélo
Stevenson Michel
James Fleurissant
Télémaque Rhod D'jyvens
Junior Pierre
Maude Asrica Cyla
Laventure E. Junior Edouard
Jean MarcAnderson Québé
Mickerlange Noël
Kenny Laguerre
Jean Gerald Augustave
Gilbert Thélusma